Flagship new 20-car showroom for FJ Chalke in Yeovil.
FJ Chalke is an automotive retailer with a growing presence throughout Somerset and six brand franchises.
The company appointed Meda to provide architecture, account management and QS services on its new flagship Kia and Nissan facility on Fusion Park in West Hendford, Yeovil.
The project to create the new-build dealership involved consolidating separate existing businesses into a single site.
The new facility now allows FJ Chalke to benefit from improved scale, and incorporates the latest CI standards of both brands.
The dual-franchise showroom can display up to 20 vehicles, while the external forecourt has space for up to 150 vehicles. The fully equipped workshop incorporates eight ramps, an MOT facility and a valet bay.
Environmental protection measures include an array of photovoltaic panels installed on the roof that will reducing the building's carbon emissions by an estimated 16.7 tonnes per year.
A rainwater harvesting system will save 425 cubic metres of water per year, while low-energy lighting with the highest thermal efficiency rating reduces energy consumption. A compensatory level was added to assist the Environment Agency with peak flood relief from the adjacent river system.
The site required extensive attenuation and flood compensation, including the removal of significant amounts of knotweed. Meda employed innovative solutions to offset these costs, including the use of vibro piling and the implementation of alternative procurement routes.
The new facility delivers substantial operational benefits while delivering an attractive, contemporary expression of the latest Kia and Nissan brand standards.
Customers now enjoy greatly improved access, with the site providing more than 200 parking spaces plus 10 electric vehicle charging points.
The £2.8 million project started in November 2018 and concluded 42 weeks later. The flagship showroom opened in December 2019, coinciding with FJ Chalke's 90th anniversary year.
FJ Chalke Kia and Nissan, Yeovil
Project
New-build 20-car dual-brand showroom with 8-ramp workshop and 10 EV charging bays, plus significant energy- and water-saving measures.
Role
Architectural Design, Project Management and QS services.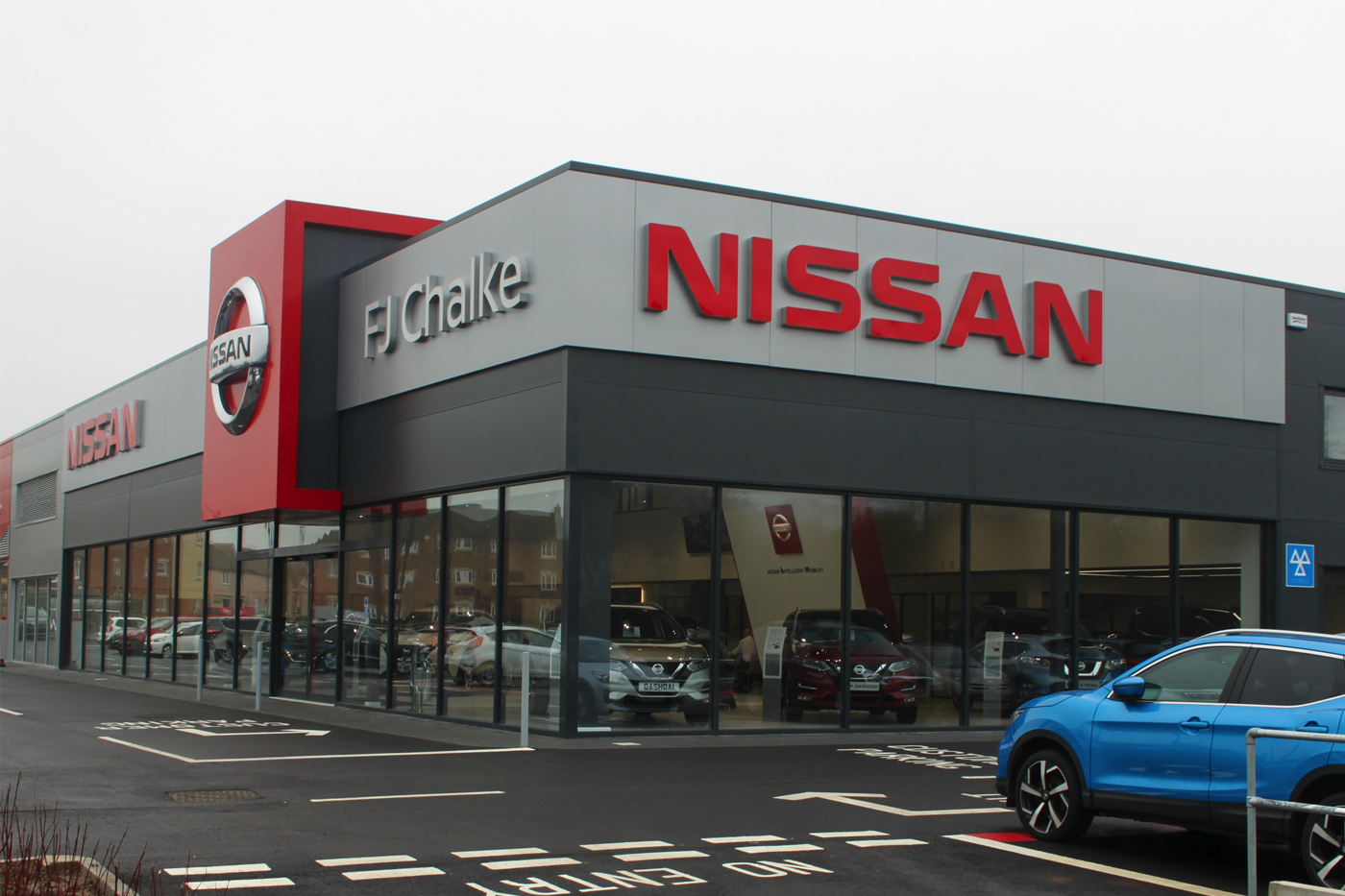 Testimonial
"Our flagship dealership provides us with a first-class facility that is a pleasure to work in and visit, and will play an important part in our plans for the future. The intelligent, forward-thinking architecture helped us consolidate our business to attract and better serve customers and employees, while improving operational efficiency and minimising our carbon footprint.
Our decision to appoint Meda has been confirmed as the right one throughout this project. They worked hard to ensure our new facility was delivered on time and on budget – even after unexpected legacy issues in the ground and complex Highways requirements were incurred.
Meda's communication with FJ Chalke, contractors and other stakeholders was excellent, contributing greatly to the successful and timely delivery of this important project."
Steve Fowler, Managing Director, FJ Chalke
Here's just a small selection of images from the project. For more information and a full case study, please drop Richard Atkinson an email.